In It for the Experience
The Arc Magazine is an online publication that shines a light on the authentic, independent experience. A fresh take on the "lifestyle" publication genre, it's a bi-monthly, creative cross-section of inspired living in the form of digestible stories and information that leads the reader to ponder their own inventive power (which we then encourage them to use for good and not evil).
Our Focus
(Or as focused as an ADD staff can be) is to inform and inspire readers through a variety of collaborative content about unique ways to work, create, give back and explore as well as to promote inspiring people whose creative endeavors are at the forefront of their lives.
No Reader Left Behind
Unlike most prescription drugs, the Arc Magazine is for everyone. Whether you are an artist, 9-to-5-er, business-owner, student, traveler, advocate or entrepreneur - schemers, dreamers, come one, come all. Our rag makes a great lunch break for people with no time and is a great jumping-off point for hours of link-surfing if you've got nothing but time. It provides encouragement for the folks who are living their ideal lives, as well as inspiration for those in career limbo, life limbo or who are simply contemplating a change.
That said...
It's our genuine hope that regardless of where you are on your own path, you'll find something on ours that resonates.
Staff | Contributors
Founder + Editor
Richele is a photographer and musician based in Seattle, Washington. She created The Arc Magazine out of a genuine desire to share inspiring stories about creative and talented people along with information about worthwhile causes and organizations. In her spare time she likes to travel and compose music and recently formed Espirumo, a musical alliance with Nestoria frontman and fellow Michigan native, Rob Piotrowski.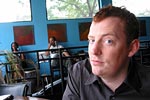 Creative Director
Tor Imsland has been doing the whole "design" thing for a long time. (Remember Illustrator 88? He does!) With over a decade of experience in a variety of fields: web, print and product design, he gladly lends his creative genius, random humor and technological savvy to The Arc. He's pretty handy with bikes too!
Read Editor + Associate Editor
Rachel Stumme is a creative juggernaut and Seattle area writer who has contributed to various publications covering topics from health and wellness to emerging cultural trends. She recently finished writing an audiobook of short stories and maintains a writer's blog.
Hear editor
Rob Piotrowski hails from Traverse City, Michigan and brings with him a unique and well-honed perspective on all things auditory. A professional recording engineer and gifted musician in his own right, Rob enjoys working on his own music projects as well as collaborating with other, like-minded musicians to produce original works just for the sake of doing so.
Taste Editor
Beth Maxey is a chef and writer with a particular love for regional foods and cultures. When she is not traveling and collecting recipes, she shares her new discoveries through Feast, a food community and boutique catering business. Recent and upcoming Supper Club dinners and private events have explored the foods of Northern Portugal, Basque Spain, Sri Lanka, Northern Italy and the Rhone and Loire regions of France.
Go Contributor | resident travel expert
Ambrose Bittner is the founder and CEO of Red Lantern Journeys, a tour operator focused on arranging tours and treks for small independent groups traveling to Asia. He is an intrepid world traveler, having visited over 30 countries on 6 continents. He has been traveling in Asia since 1988 when he took his first trip to Japan to visit friends, followed 2 years later by a backpacking trip around the world.